Our Location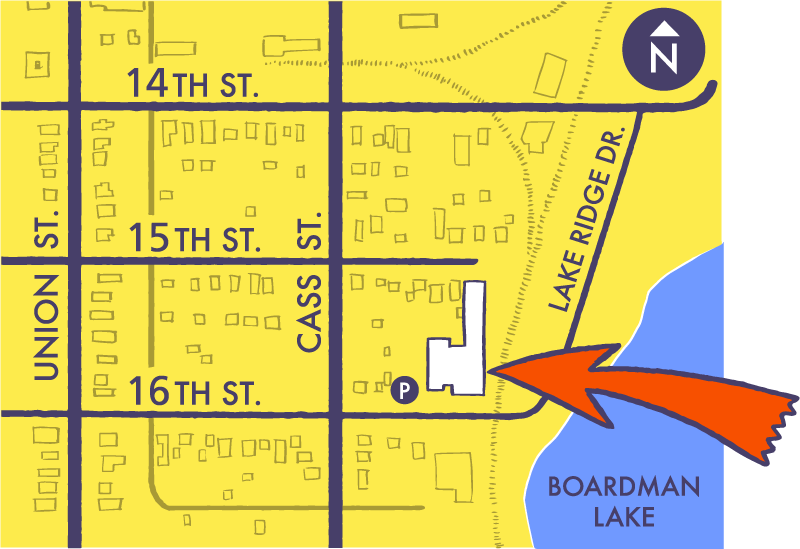 We started brewing and serving curious beers in Traverse City's 'Warehouse District' over a decade ago. When we ran out of space, we moved our headquarters into a warehouse at 225 East 16th Street that dates back more than 50 years. We renovated it, updated it, and worked hard to reclaim/re-use as much of the old building as possible. The result is an open and inviting atmosphere suitable for enjoying beer, lively conversations, and the miracle of existence.
via Google Maps
WE ONLY SERVE OUR OWN BEER, AND THAT'S THE WAY WE LIKE IT.
225 East 16th Street
Traverse City, MI 49684
Our beer selection is constantly rotating. At any time, we have between 15 and 25 craft beers on tap. In addition to beer, we also serve a selection of locally made wine, cider, and mead.
We also serve delicious, hand-crafted sodas made locally by Northwoods Soda.
---
WHAT ABOUT FOOD?
Our food menu features delicious sandwiches and burgers served on fresh, sourdough bread. Also check out our fresh house-made guacamole, salsa, or fries.
Our beef is purchased from Nada Ranch, who uses our spent grain to feed their cattle. What goes around comes around: it's hormone-free deliciousness.
The menu at Right Brain Brewery is constantly evolving. Come in and check out what's new and delicious.